Here are 12 rhyming riddles for kids that all have something to do with school.
We've also produced a free printable worksheet containing all these school riddles – click on the blue button at the bottom of the page to get a copy that your kids can then complete.
The second page of the worksheet contains all the answers, so don't give them that page by mistake!
Once they've answered all these riddles, check out our other school riddles and free printable riddle worksheets.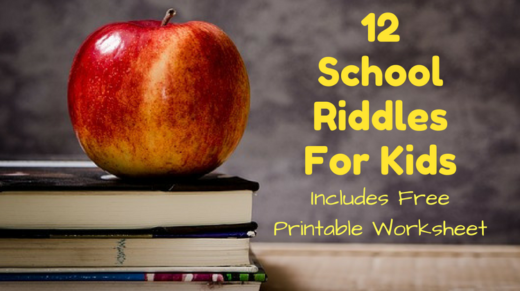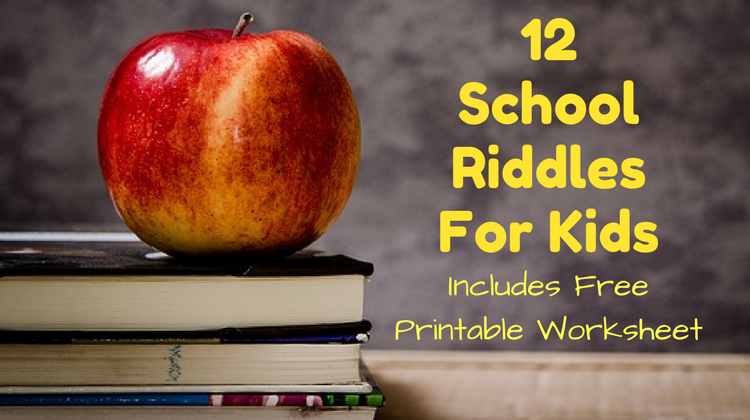 12 School Riddles For Kids
1) Book
Although this thing has a spine
It doesn't have a face
Although it is not clothing
It gets stored in a case
2) Pencil
This is an item you use
To write something to be read
You keep it sharp on one end
In the middle there is lead
3) Stapler
Fill me up with metal
And let me do my thing
Get some sheets of paper
I'll have them attaching
4) Binder
I have a plastic cover
And I have three rings inside
I come in many sizes
Like three or five inches wide
5) Ruler
Contrary to my name
I am not a queen
Hold me up to things though
And their length is seen
6) Paper
I sometimes have lines on me
And other times I am blank
I'm made from a cut down tree
Although I am not a plank
7) Bus
This is something that's yellow
But it's not a leaf in the fall
It's a type of vehicle
Which takes you everyday to school
8) Paint
You often use it with a brush
But not the kind used on your hair
Add it nicely to some canvas
So that people will stop and stare
9) Chair
This thing has a back and legs
But doesn't have any hair
It's something on which you sit
Which means that it is a _ _ _ _ _
10) Scissors
I'm something you might use at school
Although I am not a clock
I am something that beats paper
But I am beaten by rock
11) Pencil Sharpener
I'm not a razor
But have a blade
I unblunt items
That have a grade
12) Sticky Tape
If you're needing something adhesive
As attaching stuff is your goal
Then make sure you come looking for me
As I am always on a roll