Here are 10 rhyming riddles for kids where the answers are all something to do with the weather.
To make it even easier to use these as an activity with your children, there's a free printable worksheet at the bottom of the page with all these weather riddles – just click on the blue button to get a copy for your kids to complete.
Be careful though – the second page of the worksheet has all the answers on it, so don't give them that page by accident!
If they enjoy trying to answer all these brainteasers, be sure to check out our other weather riddles and printable riddle worksheets.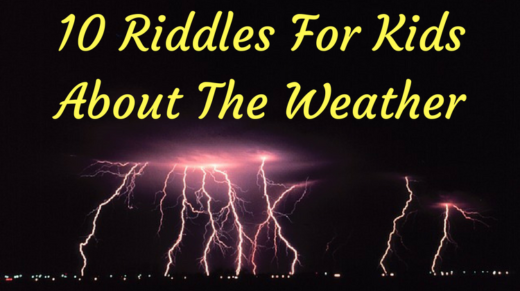 10 Weather Riddles For Kids
1) Rain
This is something you see
When outside there's a storm
It comes down from the clouds
And appears in droplet form
2) Lightning
If you see this striking Earth
A tree you don't want to be under
It's something that lights the sky
And is closely followed by thunder
3) Snow
Dropping from the sky
More beautiful than rain
There are no two pieces
That'll ever look the same
4) Sun
If you look up during the day
Then you will see this lit
Because it is Earth's closest star
Around which we orbit
5) Rainbow
This natural phenomenon
Cannot be seen when it is dark
For it's caused by light hitting rain
To create a colorful arc
6) Wind
I'm a breeze or a squall
A cyclone or gale
I am what is measured
On the Beaufort scale
7) Thunder
I happen after a flash
But I'm not a photograph
You hear me in a bad storm
I am lightning's other half
8) Ice
I can come in three forms
But this is my solid state
And when I'm hard enough
On me you're able to skate
9) Cloud
This is something you see in the sky
You'll need more hints though so I'll explain
It's sometimes fluffy and sometimes gray
And can release snow, hail or rain
10) Tornado
This is a type of weather
A phenomenon that was
What caused the house to lift up
In the film Wizard Of Oz