Here are 10 rhyming riddles for kids where the answers for each one are something to do with Thanksgiving.
We've also produced a free printable worksheet with these Thanksgiving riddles on them – just click on the blue button at the bottom of the page to get a copy for your kids to complete.
The answers to all the riddles are on the second page of the worksheet, so make sure you don't give your children that page!
If they enjoy completing these, we have many more Thanksgiving riddles and free printable worksheets.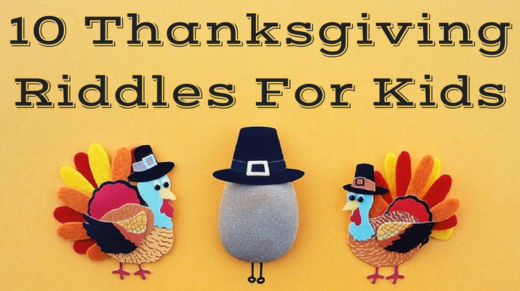 10 Thanksgiving Riddles For Kids
1) Turkey
There's lots of me at Thanksgiving
But you don't want me to be wasted
Because my meat's really juicy
Just so long as I have been basted
2) Corn
This popular grain is yellow
And is grown outside in a field
Many people add some butter
Once it's cooked and the husk is peeled
3) Potato
These are a type of starchy food
Mashed or fried they can be found
They often come from Idaho
And they are grown underground
4) Pilgrims
Black and white clothes and funny hats
Were what they wore when living
Way back in the 1600s
At the first Thanksgiving
5) Cranberry
You'll eat this fruit with turkey
To help fill up your belly
It sometimes comes as a sauce
And sometimes it's a jelly
6) Candied Yams
This is a tasty side dish
Everyone will want to chow down
It's made of sweet potatoes
Marshmallows and sugar that's brown
7) Football
An annual tradition
On every Thanksgiving Day
Is watching the great team sport
The Lions and Cowboys play
8) Cornucopia
If you want to picture fall
Then this image would be best
It is a horn that is filled
With all the season's harvest
9) Mayflower
Aboard this ship
The pilgrims did go
Sounds like a month
And something you grow
10) Pumpkin
Something I spy
With my little eye
An orange squash
That's baked in a pie