Here are 10 rhyming riddles for kids about items that can be found in a bathroom.
At the bottom of the page there's a free printable riddle worksheet – simply click on the blue button to get your copy.
The second page of the worksheet contains the answers, so don't give your kids that page by accident!
If you and your kids like these ideas, you may also like all our other bathroom riddles and free printable worksheets.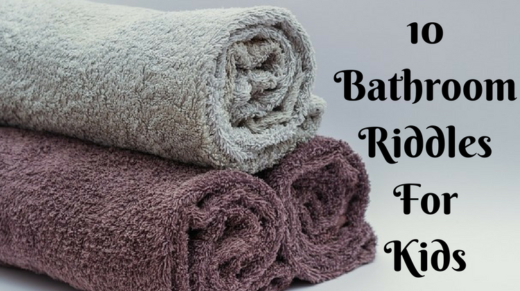 10 Bathroom Riddles For Kids
1) Toothbrush
When looking at these items
You will see some bristles
They get put inside your mouth
But they are not whistles
2) Toilet
This is something that is white
In a bathroom it is seen
One outside that doesn't flush
Often gets called a latrine
3) Mirror
They're sometimes on a wall
And sometimes on a shelf
And when you look at one
You always see yourself
4) Sink
I am something that has a plug
But there's no electricity
I'm in your bathroom and kitchen
And there's a faucet above me
5) Soap
If your hands get really messy
And dirt is all that can be seen
Then use some of this with water
To help make sure your hands get clean
6) Toothpaste
In the morning and at night
A tube of this should be squeezed
So that your teeth can be cleaned
And help keep your parents pleased
7) Toilet Paper
I am something in your house
That can be found on a roll
Once you've wiped yourself with me
I get dropped into a bowl
8) Shampoo
If you want to clean your hair
This product can't be beat
Just add it to the top of your head
And lather, rinse, repeat
9) Bathtub
This thing is found in a room
Where faucets can be seen
Fill with water and get in
It helps you to get clean
10) Towel
You always make me get wet
But not because you make me cry
It is because my purpose
Is to ensure that you get dry